Back to all posts
Posted on
Paul Stenhouse Scholarship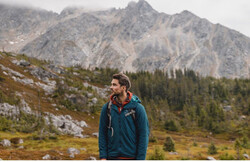 Paul Stenhouse was a graduate of Harry Collinge High School and returned as a teacher.  Over the next 6 years, he established himself as a much loved teacher, colleague, coach and athletic director.  "Stennie" was all about doing things for kids and ensuring they had the best experience possible whether that was in a science class, on the sports field or out on the trails around in the beautiful Hinton area.
Paul's spirit and commitment to the staff and students of Harry Collinge High School live on.  The Stenhouse family has created a scholarship to be awarded to a Harry Collinge High School graduating student.  
The scholarship is to be awarded annually for the next 6 years (2023 - 2027) to a student:
- pursuing post secondary education in a "helping field" such as, but not limited to education or health care - this may be deferred for one year
- who is deserving and might otherwise not receive any support
- who could benefit from this support
For the first year, the scholarship will be $1500.
Create a guest account below to donate.
https://www.studentquickpay.com/GYPSD/