Back to staff directory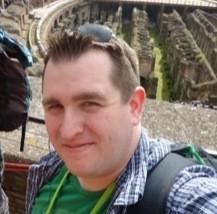 Assistant Principal, Grade 8 Art, Grade 9 SciFi, Senior English, Archery
Mr. Ryan Maguhn joined HCHS in August of 2016. A Harry Collinge graduate, Ryan was born and raised right here in Hinton. His post secondary studies were conducted in northern Minnesota, where he earned his Bachelor's Degree from Bemidji State University in Bemidji, MN.
Mr. Maguhn has taught in Alberta and Northwestern Ontario, since 2005. During this time he has been responsible for delivering instruction in a wide selection of the humanities such as - Language Arts, Writing, Social Studies, History, Drama, Art, Science Fiction/ Fantasy and other options courses. He has also worked to write locally developed courses that have been approved by Alberta Education (Ancient Roman History 15).
Mr. Maguhn enjoys spending time with his family, contributing to student athletics/life, Town Council and appreciating all things Geek (Chic?). He is absolustely thrilled to join the Harry Collinge and GYPSD family!